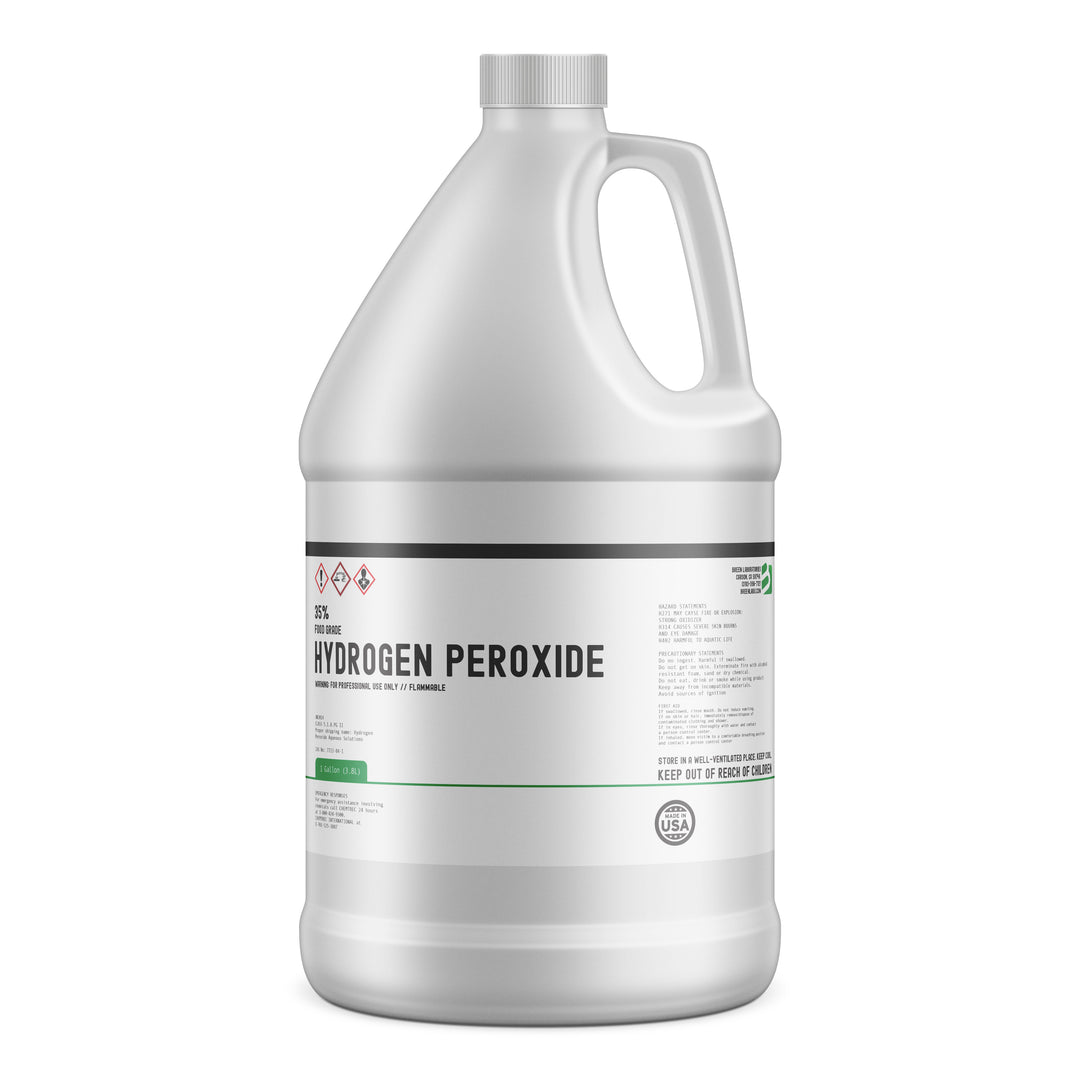 35% Hydrogen Peroxide Food Grade - Case of 4 x 1 Gallons - FREE SHIPPING
**Case of FOUR x 1 GALLON Bottles**
Hydrogen Peroxide 35%, Food Grade is an effective natural oxidizer composed of only water and oxygen. It can be used as a disinfectant and is great for use in swimming pools and hot tubs.  Please note that the price quoted is for a case of 4 x 1 gallon bottles. Free Shipping Offer does not apply to orders shipped to Hawaii or Alaska
*This item is considered hazmat, and orders begin electronically processing upon receipt. Modifications are not possible once order has been submitted. Additional Handling Fees due to Hazmat shipment apply.
PRECAUTIONARY STATEMENTS:
Do not ingest. Harmful if swallowed.
Do not get on skin. Exterminate fire with alcohol resistant foam, sand or dry chemical.
Do not eat, drink or smoke while using product
Keep away from incompatible materials.
Avoid sources of ignition
FIRST AID:
If swallowed, rinse mouth. Do not induce vomiting.
If on skin or hair, immediately remove/dispose of contaminated clothing and shower.
If in eyes, rinse thoroughly with water and contact a poison control center.
If inhaled, move victim to a comfortable breathing position and contact a poison control center.
HAZARD STATEMENT:
H271 MAY CAUSE FIRE OR EXPLOSION: STRONG OXIDIZER
H314 CAUSES SEVERE SKIN BURNS AND EYE DAMAGE
H402 HARMFUL TO AQUATIC LIFE
DOT: Hydrogen peroxide, aqueous solution, 5.1, UN2014, PG II, Hydrogen Peroxide Thirty Five Percent Food Grade is a hazardous material.